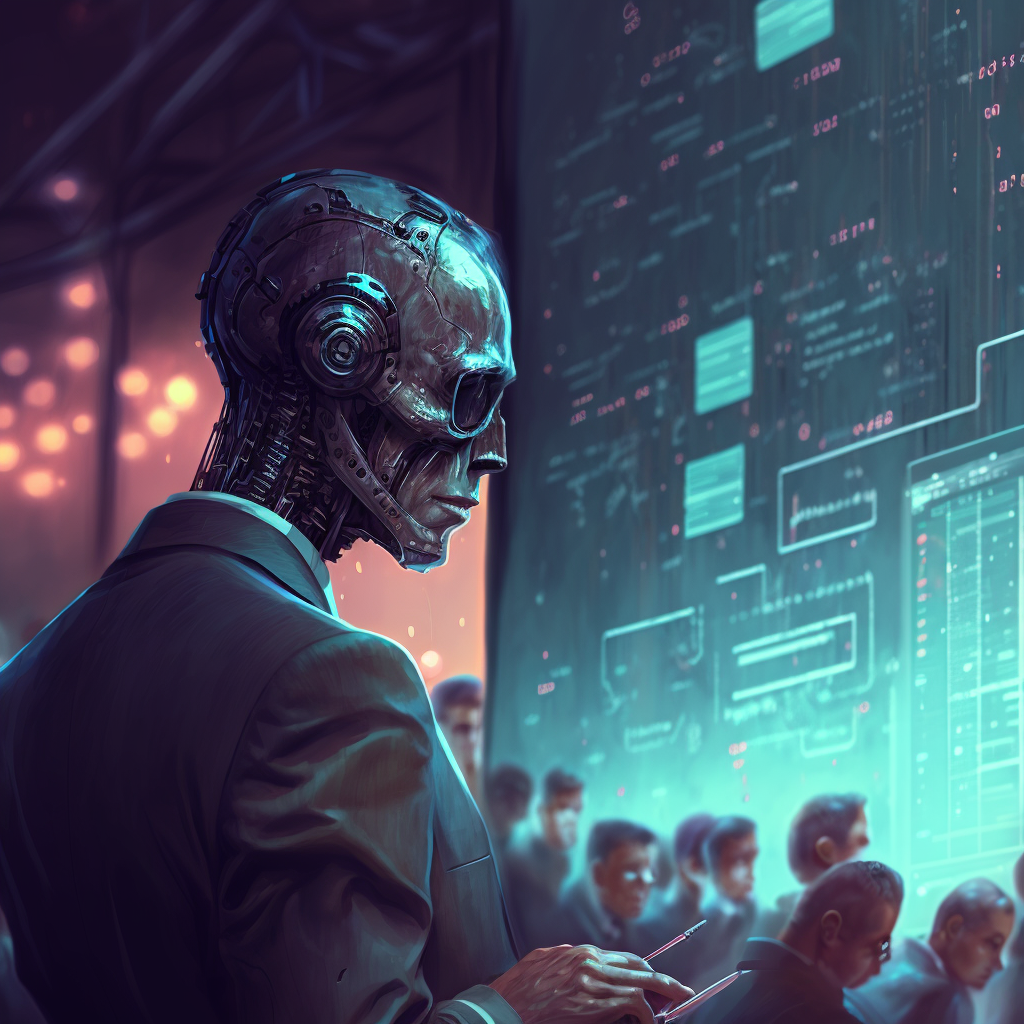 Introducing The Phenomenal Chatbot
Imagine having a smart AI assistant that helps you with everyday tasks, from content generation to coding assistance, translations, and summarizing articles.
That smart AI assistant is ChatGPT, OpenAI's chatbot aiming to revolutionize how we work and simplify our lives. Ready to explore the world of
ChatGPT
and learn how to use it effectively? Let's dive in!
Short Summary
Experience the incredible power of AI chatbots with OpenAI's ChatGPT!
Unlock faster response times, priority access to new features, and more with a Plus Subscription.
Troubleshoot any issues you may encounter; the ChatGPT community is here to help!
Creating Your OpenAI Account
To access
ChatGPT
and embark on this thrilling journey, you'll first need to create an OpenAI account. It's super simple and exciting! Just follow these steps:
Visit the ChatGPT website at chat.openai.com.
Click on "Sign up."
Register using your e-mail address or sign in with your Google or Microsoft account.
You can sign up for a free OpenAI account using Google, Microsoft, or phone verification.
With just a few clicks, you can enjoy the power of a language model and start using ChatGPT.
After signing up, you'll be able to:
Explore the fantastic world of AI chatbots by engaging with ChatGPT's free version.
Simply type your question or task in the text box, and ChatGPT will work its magic to provide you with an insightful response.
So, what are you waiting for? Press enter and unleash the full potential of this AI tool!
Accessing ChatGPT
ChatGPT is available on various platforms, even as a web app, making it incredibly convenient to access its unique features anytime, anywhere. Whether using a desktop or mobile browser, head to chat.openai.com and sign in or create an account to access ChatGPT. ChatGPT has an official iOS app for those who prefer apps, and an Android app is in development. How exciting is that?
But the excitement doesn't end there! ChatGPT can:
Access information on web pages with plugins
Find up-to-date information for you online
Connect to external services such as Wolfram, OpenTable, and Instacart
ChatGPT is like a treasure trove of AI tools with a fascinating history ready to be explored and utilized.
If you ever encounter any issues while using ChatGPT, don't worry! Troubleshooting common ChatGPT issues is a breeze. Just wait a moment or refresh the page if you encounter a "ChatGPT refuse" error. If refreshing doesn't work, you can refer to OpenAI support for a detailed guide on resolving the issue. With ChatGPT, you're never left in the dark!
Getting Started with ChatGPT
Now that you've created an OpenAI account and accessed ChatGPT, it's time to start conversing with this brilliant AI chatbot. To begin, type your initial prompt in the message bar on the home page and hit Enter or click the Send icon.
Experiment with different types of questions and tasks to see how versatile ChatGPT can be. From assisting with homework (although not recommended due to accuracy concerns and potential academic integrity violations) to explaining and simplifying code, ChatGPT is here to help.
As you interact with ChatGPT, don't forget to provide feedback using the thumbs-up and thumbs-down buttons. You can even become part of the Bug Bounty program and contribute to the continuous improvement of this fantastic AI tool. Your input matters and helps shape the future of ChatGPT!
Enhancing ChatGPT Experience with Plus Subscription
While ChatGPT's free version offers remarkable capabilities, there's a way to make your ChatGPT experience even better:
ChatGPT Plus
!
By upgrading from your free account, this paid subscription grants you access to the awe-inspiring GPT-4 model, speedy response times, and exclusive access to new features. ChatGPT Plus will elevate your AI chatbot experience and give you priority access to cutting-edge advancements in the world of AI.
The benefits of ChatGPT Plus are genuinely astounding. Imagine having faster response speeds, priority access to new features, and access to the advanced GPT-4 model. With ChatGPT Plus, you'll unlock a whole new level of AI assistance, making your tasks even more efficient and enjoyable!
Customizing Prompts for Better Results
To improve ChatGPT responses and make the most of this incredible AI chatbot, you can customize your prompts in various ways, including using specific keywords, requesting different formats or styles, and asking follow-up questions.
Let's explore these exciting techniques in more detail!
Using Specific Keywords
Including specific keywords in your
prompts
can make a huge difference in the accuracy and relevance of ChatGPT's responses. By guiding ChatGPT toward the context of your query, you'll receive more precise results that address your needs.
For instance, if you're seeking coding assistance, including keywords such as "debug code" or "step-by-step guide" can help ChatGPT understand your request better and provide a more tailored response.
Not only do specific keywords help you obtain better results, but they also allow you to harness the full potential of this powerful AI tool. Experiment with various keywords and phrases to see how ChatGPT adapts and delivers the insights you need!
Requesting Different Formats or Styles
Another way to enhance your ChatGPT experience is by requesting different formats or styles for the output. For instance, if you need a response in bullet points or prefer more formal language, simply specify your desired format or style in the prompt. This customization allows ChatGPT to cater to your specific requirements, making the output more valuable and relevant.
You can even use the Markdown markup language to format the output, giving you greater control over how the information is presented. With this level of customization, ChatGPT becomes a versatile AI assistant tailored to your preferences and requirements.
Leveraging Follow up Prompts
Don't limit yourself to just one response from ChatGPT! Asking follow-up questions can help you clarify or expand on ChatGPT's responses for a more comprehensive understanding. Remember to provide ample context when asking follow-up questions and use specific keywords to help ChatGPT grasp the query better.
Examples of practical follow-up questions include:
"Can you explain that in more detail?"
"What do you mean by that?"
"Can you provide an example?"
"What other options do I have?"
Engaging in a back-and-forth conversation with ChatGPT allows you to extract more valuable insights and ensures a productive interaction.
Managing Your Chat History and Data Privacy
As you enjoy your ChatGPT experience, managing your chat history and data privacy is essential. You can access your chat history and data controls through your OpenAI account profile settings, and you can even turn off chat history to prevent new conversations from being used for training and appearing on the sidebar. You can ensure a safe and secure ChatGPT experience by taking control of your data settings.
To further protect your privacy, avoid sharing personal information with ChatGPT, as OpenAI uses all chats with ChatGPT as training data and may involve human trainers.
Additionally, you can delete your ChatGPT conversations by deleting your OpenAI account or clearing your conversation list by selecting "Clear Conversations" from the sidebar menu. Safeguarding your privacy is paramount when interacting with AI chatbots like ChatGPT.
Utilizing ChatGPT for Various Tasks
ChatGPT is a versatile AI chatbot that can assist you in various tasks. Here are some examples of what ChatGPT can do:
Drafting business plans and documents
With ChatGPT, the possibilities are endless! You can also use ChatGPT to summarize articles by copying the text of the article and typing the prompt "Summarize the text below." Want the key points in a numbered or bullet-point list? Just include that in your prompt, and ChatGPT will deliver the information in the desired format.
With such an extensive range of capabilities, ChatGPT transforms how we approach tasks and challenges. Whether you're a student, professional, or someone seeking AI assistance, ChatGPT is an invaluable tool to make your life more efficient and enjoyable.
Troubleshooting Common ChatGPT Issues
If you run into common ChatGPT issues like "At Capacity" errors or login problems, there's no need to panic! Simple solutions like refreshing the page or clearing your cache often resolve these issues.
If these methods don't work, you can always seek help from OpenAI support, which provides additional resources and guidance for troubleshooting ChatGPT issues.
Remember, the ChatGPT community and OpenAI support are here to help you, ensuring you can continue enjoying this AI chatbot's fantastic features and benefits. With these reliable troubleshooting options, you can confidently navigate and resolve any ChatGPT issues that may arise.
ChatGPT Alternatives and Comparisons
Although ChatGPT is an excellent AI chatbot, exploring alternatives is essential to ensure you choose the best AI chatbot for your needs. Google Bard and Microsoft's Bing Chat are two fantastic alternatives to ChatGPT.
Google Bard
, which uses Google's LaMDA model, has impressive natural language capabilities and is a good choice for those looking for a different AI chatbot experience.
On the other hand,
Bing Chat
uses the most recent GPT-4 language model, making it even more effective and precise than ChatGPT. However, it's essential to note that Bing Chat requires the latest version of the Edge browser, so users of other browsers might need to consider other options. Comparing ChatGPT with alternatives like Google Bard and Bing Chat can help you determine the best AI chatbot that caters to your requirements.
Ultimately, the choice between ChatGPT, Google Bard, and Bing Chat depends on your preferences and needs. Each AI chatbot offers unique features and capabilities, so take the time to explore and compare them to make an informed decision.
With the right AI chatbot, you'll unlock a world of possibilities and enjoy a more efficient, productive, and exciting experience.
Summary
In conclusion, ChatGPT is a powerful AI chatbot that can revolutionize how you approach various tasks. From content generation to coding assistance and beyond, ChatGPT offers diverse capabilities to make your life easier and more enjoyable.
By creating an OpenAI account, accessing ChatGPT through various platforms, and customizing prompts for better results, you can harness the full potential of this AI tool.
Remember to manage your chat history and data privacy, troubleshoot issues, and compare ChatGPT with alternatives to ensure you use the best AI chatbot for your needs. With ChatGPT, the future is bright and full of possibilities!
Frequently Asked Questions
How do I use ChatGPT for the first time?
Using ChatGPT for the first time is easy and quick! Just visit chat.openai.com and create an account (email address, Google, or Microsoft account) to log in.
Type a prompt in the message box, and ChatGPT will quickly generate a response. Enjoy exploring the different options, such as regenerating the response, copying it, liking or disliking it, and more!
How do I use ChatGPT for free?
Want to use ChatGPT for free? Head to chat.openai.com and sign up for a free OpenAI account. Once logged in, you can start chatting away without spending a dime.
It's fast, easy, and, best of all, totally free!
Can I use ChatGPT without logging in?
Exciting news! You can use ChatGPT without logging in; simply utilize a browser add-on to take advantage of the ChatGPT technology and start chatting right away!
So why wait? Get started using ChatGPT today!
Can I use ChatGPT for academic purposes?
Unfortunately, using ChatGPT for academic purposes is generally discouraged because the accuracy of the results is uncertain and could violate academic integrity policies.
ChatGPT is a powerful tool that should not be used for academic work. It is important to be aware of the potential risks and to adhere to academic integrity policies.
How do I access ChatGPT on my mobile device?
You can now access ChatGPT on your mobile device with ease! Simply visit chat.openai.com in your browser or download the official iOS app to get started. An Android app is in the works too!
Let's get started!
Written by