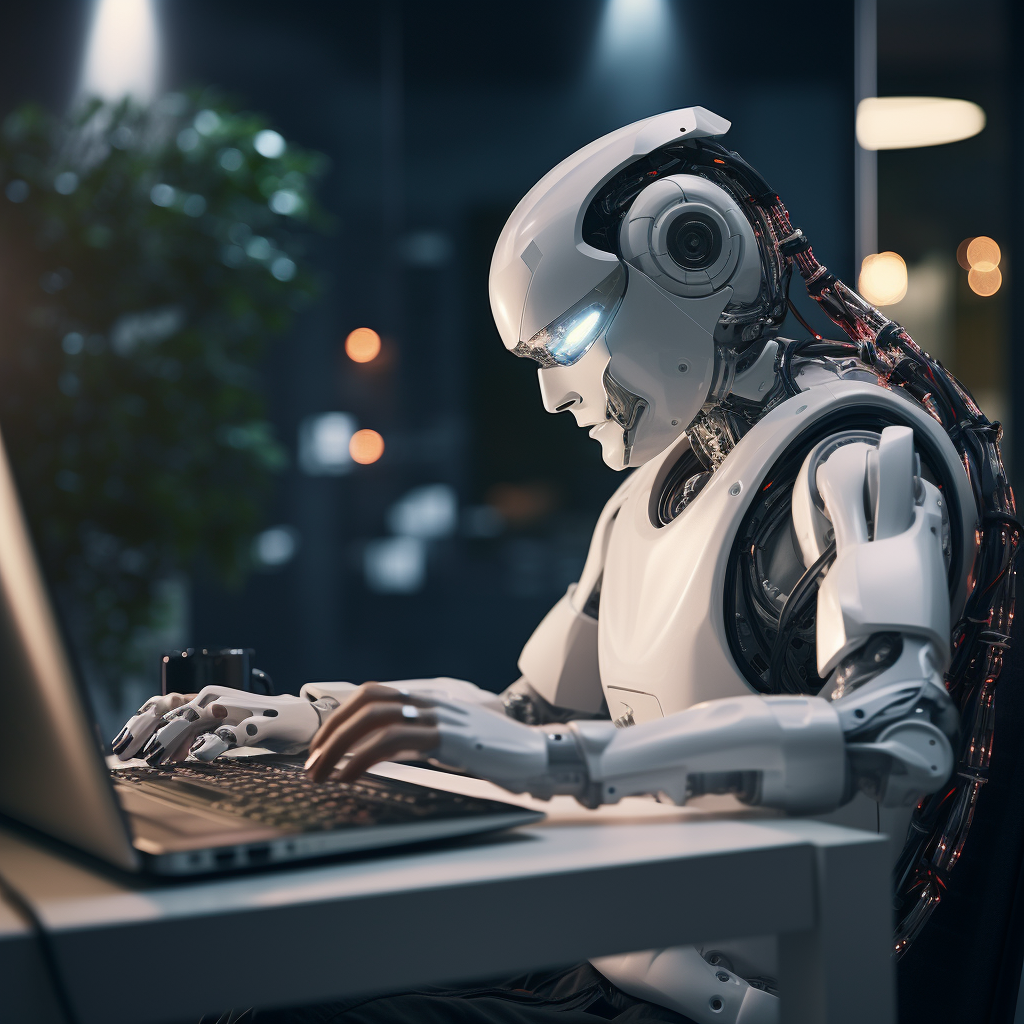 What Can Bing Chat Do For You?
Ever wished for a more interactive and conversational search experience? Bing Chat, Microsoft's AI chatbot, is here to revolutionize how we search the web. No more browsing through endless lists of links.
Learn how to use Bing Chat for a more engaging, human-like interaction. Get ready to embark on a journey toward a more personalized and intuitive search experience.
Short Summary
Getting started with Bing Chat is easy and allows for engaging conversations with an AI chatbot.
Bing Image Creator allows users to create images using natural language descriptions without needing Microsoft Edge.
Safeguard your privacy by storing chat history and data protection in the secure online experience of Bing Chat.
Getting Started with Bing Chat
Accessing Bing Chat is a breeze, and you don't even need a Microsoft account to start using it.
However, to get the most out of your experience, it is recommended to log in to your Microsoft account, as this will enable longer conversations with up to 20 responses from the Bing AI Chatbot.
To access Bing Chat on a desktop, simply follow these steps:
Download and install the latest version of Microsoft Edge web browser.
Visit bing.com.
Once there, select the "Chat" tab to activate the Bing AI interface for a conversational search experience.
Initiating a conversation is as easy as clicking the "New Topic" button adjacent to the text box.
And if you want to cease Bing Chat responses, just click "Stop responding" to return to the Bing homepage.
Bing Chat
, powered by the Bing search engine, aims to enhance your search experience by providing search results in a more conversational format, utilizing GPT-4 technology.
You can interact with the chatbot in the Bing chat window by:
Hovering over an answer in the chat window
Giving it a thumbs up or down
This AI-powered feature is free to use, but some limitations apply if you are not logged in to a Microsoft account.
Accessing Bing Chat on Mobile Devices
Bing Chat
is not just for desktops; iPhone and Android users can also access this conversational AI through a range of applications, including Bing, Edge, and Skype.
You will need a Microsoft account to access Bing Chat on mobile devices. Enjoy the benefits of Bing Chat for free on your mobile device.
The Bing app offers a more
seamless experience
by providing direct access to the Bing AI chatbot, eliminating the need to navigate to a website for use.
However, Microsoft has limited conversations to 20 prompts on both Bing-supported iPhone and Android devices.
Utilizing Bing Chat in Windows 11
If you are using Windows 11, accessing Bing Chat is even more convenient. It is integrated into the search bar, allowing you to open a chat window directly in Microsoft Edge from your desktop.
Navigate to the Start Menu or taskbar and search for Bing Chat. It will appear as a shortcut to the web version of Bing Chat.
To begin a new conversation with Bing Chat, simply follow these steps:
Select the "New Topic" button (broom icon adjacent to "Ask me anything").
Submit another query.
Bing AI will provide a more human-like answer, citing relevant information sources on the right side of the search results page.
Enhancing Your Bing Search Experience
Bing Chat offers a unique feature: intelligent formatting of search results into specific answers to your queries. This allows you to engage in further dialogue with the chatbot and provide constructive
feedback
on its results, refining your search as needed.
With the introduction of the new Bing Chat, users can expect even more accurate and relevant results.
The conversational style of
Bing with ChatGPT
sets it apart from traditional Bing, which provides a list of links for search results. Suggested follow-up questions are provided after every search to encourage further engagement with the search engine.
Bing Image Creator
One of the exciting features of Bing Chat is the Bing Image Creator, an AI-powered tool that generates images in response to user input. Accessible via Bing Chat in the Creative Conversation style or directly from
bing.com/Create
, Bing Image Creator allows you to create images using natural language descriptions.
The best part? You don't need to use Microsoft Edge to access Bing Image Creator.
Comparing Bing Chat and ChatGPT
When it comes to accuracy, Bing Chat has the edge over ChatGPT, as Microsoft claims it's more powerful and accurate. While ChatGPT uses GPT 3.5, a previous iteration of OpenAI's language model, Bing Chat uses GPT-4 to generate its responses.
Integrating Bing Chat into the latest version offers enhanced control over the user experience and a more user-friendly UI.
It is worth noting, however, that Bing Chat may sometimes provide inaccurate information or generate responses unrelated to the initial query. In such cases, engaging in further dialogue with the chatbot and offering constructive feedback can help refine the search results and improve the overall experience.
When choosing between Bing Chat and ChatGPT, it is essential to consider their respective language models, accuracy, and user experience.
With its GPT-4-powered responses and user-friendly interface, Bing Chat offers a more powerful and precise conversational search experience.
Safeguarding Your Privacy
Privacy
is crucial to any online experience, and Bing Chat is no exception. Your chat history can be found on the right-hand side of the chat window. If you are using Bing Chat with a Microsoft account, your search history will be saved in the account, depending on your settings.
Microsoft puts Bing and Edge users at the top of their priority list. This ensures they get the best first experience with the chatbot. They also give extra attention to those who have installed the Bing Mobile app.
To ensure your conversations remain secure, it is essential to be aware of Bing Chat's privacy measures, including chat history storage and data protection. Understanding these measures allows you to safeguard your privacy while using Bing Chat.
Bing Chat Limitations and Restrictions
Bing Chat comes with certain limitations and restrictions, including:
A limit of 15 questions per interaction
A maximum of 150 daily conversations
The number of characters one can use to answer a conversation prompt or respond is limited to 2,000
A maximum of 20 prompts per conversation
A maximum of 200 daily conversations
These limitations have been set to ensure the convenience of both users.
Being aware of these limitations and restrictions will help you optimize your use of Bing Chat and ensure a smooth conversational search experience.
Troubleshooting Common Issues
Bing Chat users may occasionally encounter common issues, such as:
"Sorry, You've Reached Your Daily Limit."
Extended conversations and specific conversational styles can also lead to Bing AI becoming confused and following an unhelpful route.
If you encounter issues with Bing Chat not functioning, you can try the following steps to troubleshoot the problem:
Verify your internet connection.
Log in to your Microsoft Account and ensure you are signed in.
Refresh the Bing AI Chat page.
If refreshing the page doesn't resolve the issue, consider troubleshooting other potential problems, such as signing in to your Microsoft Account and ensuring you are using the most up-to-date version of the Bing AI Chat page.
Summary
Bing Chat offers a revolutionary conversational search experience, making finding the information you need easier than ever.
With its AI-powered responses, user-friendly interface, and versatile accessibility on desktop and mobile devices, Bing Chat is a game-changer in the world of search engines.
So why not give it a try and embark on a more interactive and engaging search journey?
Frequently Asked Questions
How do I access Bing Chat?
Access Bing Chat by visiting bing.com. With Microsoft Edge, click the Chat tab at the top of the page and then enter your prompt.
You can also access it through the Edge sidebar, where you can change the conversation style and ask follow-up questions.
How do I use Bing Chat on my phone?
Open the Bing app on Android or iPhone, sign in with your Microsoft account (if applicable), click the Bing Chat button, and tap the keyboard button at the bottom right to use Bing AI Chat.
Agree to Bing's search policy and grant the keyboard access to your location.
Why can't I use Bing Chat?
Bing AI Chat may not be working due to technical issues with Bing's servers, an unstable internet connection, or because your browser does not support it.
Ensure your network connection is reliable and that any VPN or proxy connection is disabled.
How do I use Bing Chat without Edge?
You can access Bing Chat AI by using a browser extension like "Bing Chat for All Browsers," which can be installed on Google Chrome or Mozilla Firefox.
After installation, you just need to open or refresh the Bing page to get started.
What are the daily conversation limits for Bing Chat?
Bing Chat allows you to have 15 questions per interaction and 150 conversations daily.
Written by